Napa Valley College AAUW Club Begins its Third Year on Campus
The NVC AAUW Club's first event was in the fall of 2013. A joint meeting was held with our Napa County branch members for the screening of the documentary "The Invisible War." Over 50 students, faculty and branch members attended. Professor Jessica Amato and Instructional Assistant Danielle Alexander began as our faculty advisors. In the spring of 2014, the club and branch sponsored Women at the Top…Why Not? A Napa Valley women leaders panel discussion in honor of Equal Pay Day, April 9th. In June of 2014, Napa Valley College sent it's first student, to the National Conference of College Women Student Leaders (NCCWSL) in Washington, D.C.
In the fall of 2014, under the leadership of Emily Myhre, President and Shannon Swiney, Vice President, the club went on to receive one of 11 National AAUW/Pantene Community Action Grants to address stereotypes and bias. Their project grant was entitled "Moving Women Forward in STEM Careers." They completed a questionnaire of River Middle School students and 9th graders at Justin Siena High School and found that the girls were less likely than boys to choose STEM careers. The club organized a daylong event in May 2015 for middle school girls called "SciTech Girls" which was designed with hands-on activities to encourage the girls to consider careers in science, technology, engineering and math. As part of the grant, Shannon also started a chapter of the Society for Women Engineers at NVC with the goal to increase support of women in STEM fields at NVC.  She is currently the president of that club. Adjunct Professor Danielle Alexander continues as our AAUW club advisor and is also a member of our Napa County AAUW branch. Pictured below are the five women who were instrumental in successfully completing the grant project. Both Emily and Shannon attended NCCWSL in Washington DC in June of 2015 and had the honor of presenting their project.
Each semester, the young women who continue to be enrolled at NVC, participate in Club Rush, a college event that attracts new members to join our mission to empower women and girls. In the fall of 2015, Renee DuPee and 7 other students signed up to be members of the club. Renee was voted president, Shannon became Vice President, Nesmarie Cruz became Treasurer, and Loralee Camarillo became the ICC representative.  The club had a very successful event on campus in the fall of 2015 with the screening of "The Mask You Live In," a documentary about men and boys who struggle to stay true to themselves while negotiating America's narrow definition of masculinity. In November after a sexual assault was reported at NVC campus, the AAUW club set up an information table outside the library to give college women information and alert whistles to help fight this problem. Below is a photo, L to R, of Danielle Alexander, Renee DuPee and Judy Durham, Program Manager Sexual Assault Victim Services, during this event.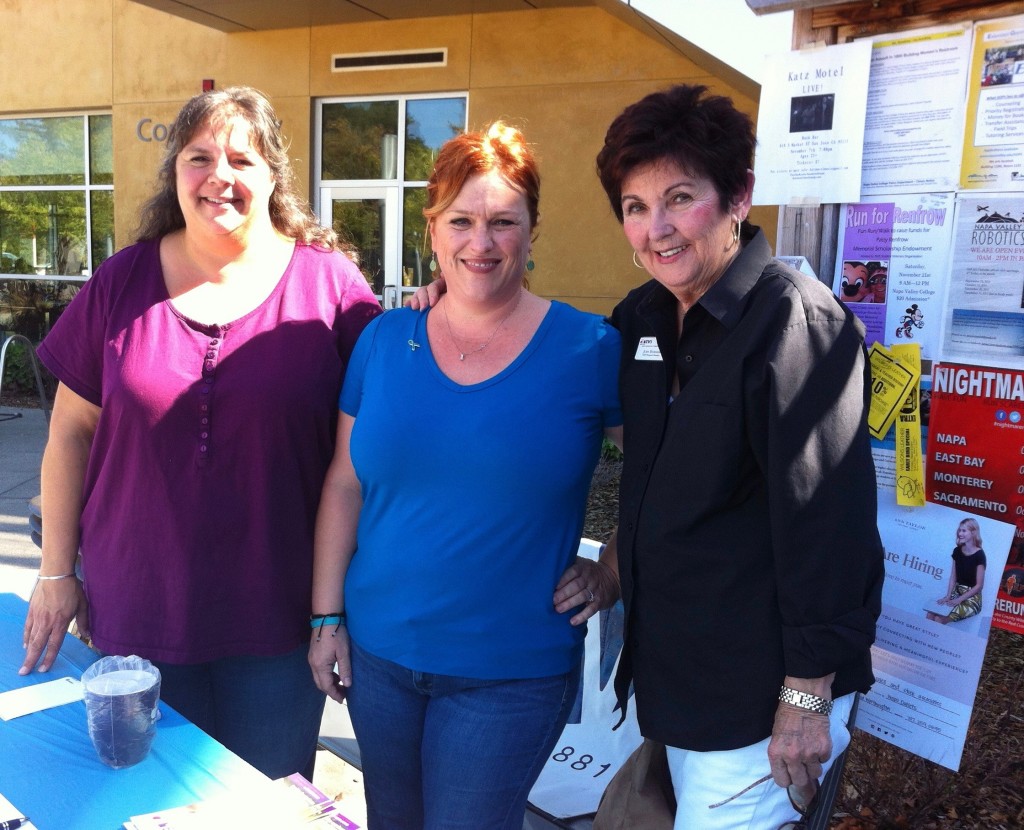 Benefits of the AAUW/Napa Valley College Partnership includes student memberships in the AAUW NVC Club, free e-student membership in AAUW, access to scholarships, educational forums and programs, up-to-date information about policies and issues important to breaking down educational and economic barriers for women and girls. Email Danielle Alexander for club membership.
Our College/University Partnerships are crucial to our future and provide both continuing education and life-long learning to our community.
It is up to us to…
Strengthen these relationships
Hold some of your meetings/events on the NVC campus
Make AAUW visible on campus with $tart $mart and Elect Her
Make students aware of available resources in the community (child care)
Find good candidates from club members for NCCWSL every year.