The Annual Napa Branch Meeting and Scholarship Foundation Celebration will be
Saturday May 14th from 11:00 am – 12:00 pm on Zoom.
with guest speaker Dr. Jasmeet Dhaliwal, Postdoctoral Scholar, Planetary Scientist, Volcanologist, and more!
Keep an eye out for email updates and reminders about the program and Zoom link. 
First to business:  As this is our Annual Branch Meeting we will be electing next years' officers at the meeting.  
We are excited about our featured speaker, 2021-2022 AAUW Fellowship recipient, Jasmeet Dhaliwal, a postdoctoral scholar in Earth and planetary sciences at UC Santa Cruz. She is a planetary scientist who studies the chemistry of the early solar system and how it has influenced planet formation and evolution. Jasmeet is actively involved in science outreach education for K-12 students and efforts to increase diversity, equity, and inclusion in the Earth and planetary sciences. She eventually hopes to become a professor and develop interdisciplinary research with her colleagues to advance social
justice issues in the field.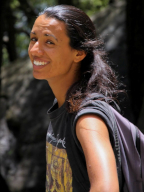 ____
Check out our new Diversity Equity, and Inclusion page (click on DEI above)!
____
Calling all AAUW adventurers!
---
Our Mission: Advancing gender equity for women and girls through research, education, and advocacy.
Our Vision: Equity for all.
Our Values: Nonpartisan, Fact-based, Principled, Inclusive and Intersectional.
In principle and practice, we value and seek a diverse membership.  There shall be no barriers to full participation in this organization on the basis of gender, race, creed, age, sexual orientation, national origin, disability, or class. By joining AAUW, you belong to a community that breaks through educational and economic barriers so that all women and girls have a fair chance.
---
PAST PRESIDENT'S PIN

Designed by Napa County Branch Past President Gladys Johnson, this pin has been available since 1970.  Branches form the letters AAUW and the leaves symbolize each past president as vital to the life of the branch.  The Education and Training Fund receives all proceeds.
To order or for more information, please click here to go to the Past President's Pin Page.
Please note: Effective January 1, 2021, the price of our pins increased due to increased manufacturing costs.