A 5-Star Branch
Our Mission: Advancing gender equity for women and girls through research, education, and advocacy. Our Vision: Equity for all. Our Values: Nonpartisan, Fact-based, Principled, Inclusive and Intersectional.
In principle and practice, we value and seek a diverse membership.  There shall be no barriers to full participation in this organization on the basis of gender, race, creed, age, sexual orientation, national origin, disability, or class. By joining AAUW, you belong to a community that breaks through educational and economic barriers so that all women and girls have a fair chance.
Co-Presidents Message for 2023-24
for women and girls as they pursue higher education and for making our voices heard through community programs and Public Policy initiatives. As we fully emerge from the years of isolation due to the pandemic, we see tremendous opportunities to reach out within and outside the boundaries of our membership to enrich your personal lives, revitalize and grow our membership, and extend the power of our community.
Our theme this year of Building Connections encourages you to enjoy the opportunity to meet and grow by connecting with other women. Each new connection you make with someone enriches both your lives and the community.
This directory will facilitate building those connections, offering essential information about our organization, board members and appointed officers, scholarship foundation, interest sections, community service project and key contacts. We hope it becomes a trusty daily reference – as you research programs or locate contact information for someone you just met at an AAUW meeting. Each year, our directories are full of notes and sticky tags. We hope yours will look like that this year!
We look forward to connecting with you this year!
Co-Presidents Melinda Dittman and Elaine Cannon
Click here to read the AAUW Napa County 2022-23 Strategic Plan
Click image below to learn more about AAUW National's updated Strategic Plan.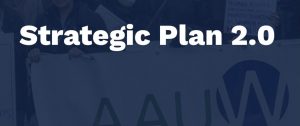 PAST PRESIDENT'S PIN

Designed by Napa County Branch Past President Gladys Johnson, this pin has been available since 1970.  Branches form the letters AAUW and the leaves symbolize each past president as vital to the life of the branch.  The Education and Training Fund receives all proceeds.
To order or for more information, please click here to go to the Past President's Pin Page.
Please note: Effective January 1, 2021, the price of our pins increased due to increased manufacturing costs.