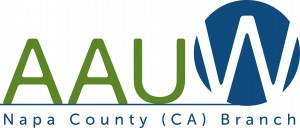 The American Association of University Women-Napa County branch was chartered in 1929. In 2009, the branch celebrated its 80th anniversary in grand style with a luncheon at Silverado Country Club followed by a fashion show highlighting accomplishments and vintage fashions from each decade since the founding of the organization. Some branch highlights include:
• 1930s — Introduction of the Well-Bay Clinic, founded by member Dr. Ethel Priest.  Initiated the first nursery school in Napa.
• 1940s — Members contributed to the war effort, stepping in to fill the void left by the men at war with the motto, "We can do it!" Thanks to AAUW's support, a full-time county health officer position was initiated.
• 1950s — Former branch president Elizabeth King Robinson became the first appointed Napa City Attorney. Member Jessamyn West, author of "Friendly Persuasion," was the keynote speaker at the state convention.
• 1960s — The branch started holding ninth-grade girls forums, and college exploration teas for 11th-grade girls.
• 1970s — Saw the design of the popular Past Presidents Pin by member Gladys Johnson. Sales of the pin, worn by past AAUW presidents all over the country, have grown to approximately $100,000, with proceeds going to scholarship programs. The Volunteer Center of Napa County was created by a member, and several members served on the Napa County Commission on the Status of Women.
• 1980s — Members adopted a monthly involvement in the Table, which feeds the hungry at First Presbyterian Church. The Napa County Branch Scholarship Foundation was formed to award scholarships to local high school girls.
• 1990s — The branch participated in the Napa City-County Library grand re-opening. The Mary Lyons scholarship program selected its first recipient. The Napa County Branch Scholarship Foundation sent the first Tech Trek girls science and technology camp at Stanford University, and Napa County branch strongly supported Title IX and the opening up of sports programs for women.
• 2000s — Co-sponsored programs with Sonoma County branches for International Women's Day and NARAL, and co-sponsored an exchange student from Tasmania with Napa Valley College. The Tech Trek program continues with 6-8 girls receiving scholarships to attend camp this year at UC Davis and Sonoma State University. The Adopt-a-Road program was instituted. An anti-bullying project was initiated with Napa schools, with concentration on cyber-bullying. Sallyann Berendsen, chair of the anti-bullying committee, attended the AAUW National Convention in New Orleans in 2013 as a speaker in a breakout session. College/University Partnership established with Napa Valley College and student AAUW Club was formed.
• 2010s —  We initiated the Authors Forum fundraiser. We began a third scholarship fund, the Donna Connell Fund and awarded scholarships to its first recipients. Our Public Policy committee completed a Title IX study of Napa County schools. We began sending college students to the National Conference for College Women Student Leaders.  Programs of note include include ones on racism, food insecurity, and human trafficking. We received a Community Action Grant from AAUW and Pantene which enabled college students to study gender inequities in higher-level math and science classes at Napa Valley College and to sponsor a one day SciTech Girls conference to inspire middle school girls to study STEM subjects. A Napa student won first place in the state-wide Speech Trek contest. And we carried on despite a pandemic.
AAUW Napa County looks forward to serving the community for many more years!
BRANCH PAST PRESIDENTS
* Deceased
1929-30 Stella Linscott*
1930-31 Bertha Warthorst*
1931-33 Altabelle Beall King*
1933-34 Gertrude Berg*
1934-35 Dr. Ethel Humphrys Priest*
1935-36 Esther Myers Umhalt*
1936-37 C. Alice Hawkins Riggins*
1937-38 Sarah Lynch*
1938-40 Mildred Swansan Denny*
1940-41 Elizabeth King Robinson*
1941-42 Vale Smith McCormick*
1942-43 Lionel Stevenson*
1943-44 Fores Hammond Crandall*
1944-45 Frances Greenleaf Barrow*
1945-46 Alma Cobb LaRue*
1946-47 Gladys Beck Johnson*
1947-48 Dorothy Coombs Robertson*
1948-49 Helen Kingsbury Sawyer*
1949-50 Alta V. Black Sheaf*
1950-51 Kathryn E. Haag Key*
1951-52 Josephine Moseley Lyerla* and Katherine Ann Nosler Rutherford*
1952-53 Ruth Bickford Northrop*
1953-54 Frances Corlett Howard*
1954-55 Eloise McCleave Considine*
1955-56 Jeanie Tetenman Goodwin*
1956-57 Jerry Wellborn Hemmerling*
1957-58 Lucy Proctor Case*
1958-59 Naomi Smith Bailey*
1959-60 Alice McMahon*
1960-61 Ruby Woodcock Henry*
1961-62 Erna Boettcher Hammerich*
1962-63 Dolores Fischer*
1963-64 Joan Ponsford Hildebrant*
1964-65 Elizabeth Stansfield Haworth*
1965-67 Mona Dilot Humpert
1967-68 Luree Stevens Hansen*
1968-69 Mary Hart Law Harrington*
1969-70 Ruth Raeder von Uhlit *
1970-71 Kathryn Geibel Martin
1971-72 Betty Thompson Lieb*
1972-74 Polly Browne Rose*
1974-75 Mary Bertschi MacVitie*
1975-76 Evelyn George Price Hunley*
1976-77 Patricia Yoder Hetrick*
1977-78 Tracy Argens Talmage*
1978-79 Dorothy Darling Brock*
1979-80 Anne Bradley Greig*
1980-81 Madeline J. Chambille*
1981-82 Janet Ackerly Mendenhall
1982-83 Jewel Marie Bell Wood*
1983-84 Eleanor Smith Harnly*
1984-85 Linda McComber Arens
1985-86 Joan Larson Glasier Havard
1986-87 Mary Kay Hansen Kaltreider
1987-88 Julie Noyes Yocum
1988-89 Margarett G. Killingsworth
1989-90 Catherine Tillotson Allen*
1990-91 Sue Dee Shenk
1991-92 Sue S. Stephenson Ziemski
1992-93 Beth Chandler Bywater*
1993-94 Florence Whisenant
1994-95 Dorothy Hartman Handy and Kaye Myers Carson*
1996-97 Jana Jack
1997-98 Elizabeth Henderson and Melinda Dittman
1998-99 Ev Vogt*
1999-00 Kimberly Medlin
2000-01 Linda Rominger
2001-02 Sally Hunter
2002-03 Tege Montmorency
2003-04 Mary Ann Formosa
2004-05 Portia Catania
2005-06 Karoline Hall
2006-07 Dorothy Hansen*
2007-08 Judy Magnuson*
2008-09 Judy Magnuson* and Sallyann Berendsen
2009-10 Sallyann Berendsen
2010-11 Keeta Lewis and Kim Smith
2011-12 Keeta Lewis, Portia Catania, Mary Kay Kaltreider, and Linda Rominger                      2012-14 Pat Parker
2014-15 Toby Mitchell
2015-16 Pat Bardwell
2016-17 Pat Bardwell and Barbara Pahre
2017-18 Barbara Pahre
2018-19 Carolyn Stewart
2019-20 Linda Feutz
TRANSFERS (Past Presidents)
Molly Craver Peck: Oakdale-Riverbank-Escalon, California 2014-2015
Elizabeth Groelle: Placerville, California 1994-96
Roberta Simcoe: Oxnard, California 1977-79, 1994-95
Krys Wulff: California State President 1998-2000
AAUW Funds Honorees / Named Gifts
The Named Gift is a way the branch pays tribute to an individual, a group, or an organization for extraordinary service to AAUW and the Branch.  The award signifies that the branch has donated at least $750 to an AAUW Fund in the name of each honoree.  Funds are donated from sources including the Scholarship Foundation's Wishert-Umhalt-Grabenauer endowment, Past Presidents, and individual member contributions.  Donations from the W-U-G and Past Presidents are made to the Educational Opportunities Fund.
2000  – Beth Bywater, Jean Haight, Kimberly Medlin, Mary Kay Kaltreider, Mona Humpert, Madeline Chambille, Cordelia Veit-Carey, Julie Yocum, Don Feiner, John Dunlap
2001 – Naomi Bailey, Roberta Simcoe, Dorothy Handy, Sue Ziemski, Linda Arens, Irene Jacobs, Mary Skouge, Judith Feiner, Mimi Formosa, Mary Herzog, Robert Mack, Barbara Saunders, Nancy Schleicher, Analee Humpert, Carol Grant
2002 – Jan Lassagne, Lucy Case, Linda Feutz, Sharon Macklin, Mary MacVitie, Ginger Grafton, Anne Fugit
2003 – Tege Montmorency, Judy Feiner, Mary MacVitie, Beth Bywater, Kimberly Medlin, Melinda Dittman, Thelma Brown, Shirley Smith, Sharon Hosler, Janet Wells, Kuniko Okamoto, Portia Catania
2004 – Joan Hildebrandt, Mimi Formosa, Linda Rominger, Sue Ziemski, Mary Herzog, Mary Brown, Sue Kesler, Pat Hitchcock, Adele Iverson, Sally Hunter, Aletha Silcox 
2005 – Portia Catania, Sallyann Berendsen, Elizabeth Henderson, Ruth Jenkins, Mona Humbert, Jean Haight 
2006 – Judy Magnuson, Polly Rose, Karoline Hall, Betty Haworth, Sue Hill, Mary Herzog, Pat Hitchcock 
2007 – Marilyn Betcher, Thelma Brown, Monica Finigan, Maureen Grinnell, Dorothy Hansen, Lauree Hansen, Aletha Silcox, Kim Smith, Shirley Smith 
2008 – Ginger Grafton, Ruth Jenkins, Keeta Lewis, Sharon Hosler, Melinda Dittman, Aletha Silcox, Mimi Formosa, Mary Nielsen 
2009 – Sallyann Berendsen, Mary Kay Kalterider, Portia Catania, Kaye Myers Carson, Liz Groelle, Sally Hunter, Pat Hitchcock 
2010 – 2011 Sonia Wright, Jim Bickford, Marissa Schleicher, Bernice Sousa-Carden, Cynthia Crawford, Joyce Adriance 
2012 – Julie Yocum, Kim Smith, Beth Bywater 
2013 – Jean Haight, Joan Hildebrant 
2014 – Ev Vogt, Jean Haight, Linda Dietiker-Yolo, Barbara Pahre, Carole Keiner 
2015 – Claudia Hanna, Sherry Hanson, Mary Kay Kaltreider, Bernice Sousa-Carden, The Table Volunteers, John Gordon 
2016 – Sallyann Berendsen, Pat Parker, Mona Humpert, Toby Mitchell, Beth Bywater, Aletha Silcox, Marlene Zimmerman, Kay Lewis 
2017 – Joan Bailey, Pat Bardwell, Dorothy Brock, Teri Buchanan, Beverly-Daniels Greenberg, Sally Hunter, Betty Lieb, Kim Medlin, Pat O'Connor, The Art Group, The Authors' Forum Book Group, The Scholarship Angel 
2018 – Sallyann Berendsen, Joy Barnes, Barbara Pahre, Linda Rominger Terry, Sherry Breitigam, Maureen Grinnell, Pat Hitchcock, Naomi Chamblin, Martha Wise, Jan Wells, Evelyn Price, Marie Wood
2019 – Lisa Groom, Mary Kay Kaltreider, Terry Longoria, Judy Magnuson, Toby Mitchell, Juliet Spalding, Barbara Thompson, Julie Yocum
2020 – Our Honorary Life Members, Terry Longoria, Kim Medlin, Toby Mitchell, Pat Parker, Aletha Silcox, Carolyn Stewart, Linda Terry, The Authors Forum Book Club